Event Phone: +44 1923 606 255
[ESPRESSO_PROMOTIONS]
Portsmouth February 10-11, 2018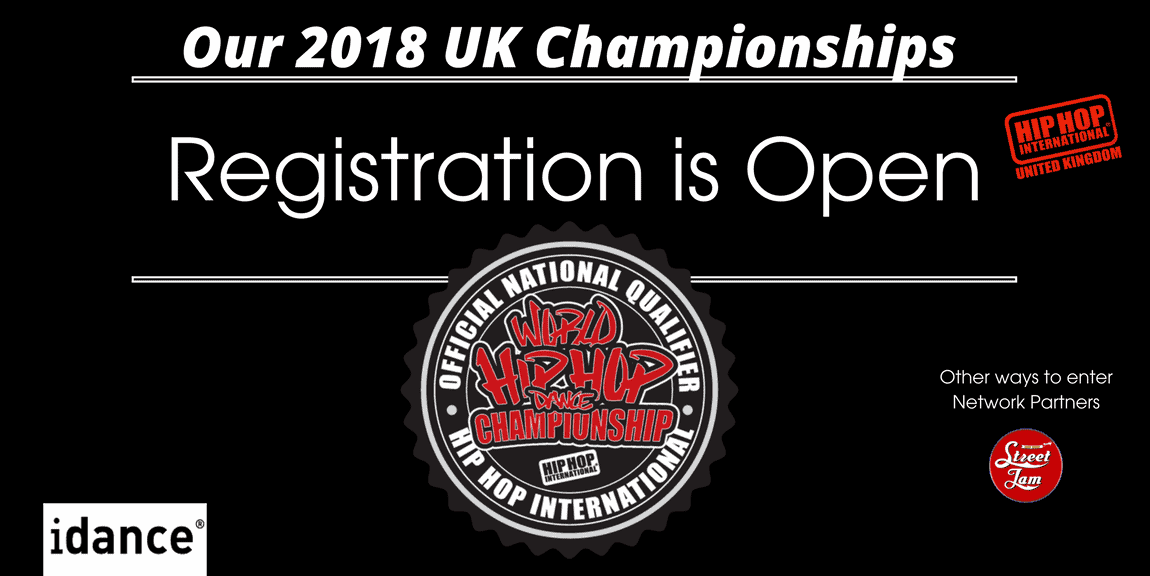 New | Value | Categories | Schedule | Prizes | New Simple Rules |
---
What's New?
We are not just looking for advanced dance groups to represent the UK at World Championship. We have built the UK's #1 platform and we are looking to create future champions. That's why we are throwing the doors wide open for:
 kids
 u13s
 u18s
 Beginners
 Intermediates
 Unique groups with their own special flavour
Individual dancers wanting to express themselves
Anyone looking to learn new skills and improve their dancing
and, of course,
Anyone looking to have a lot of fun.
Back to top New | Value | Categories | Schedule | Prizes | New Simple Rules |
Hip Hop International UK is now OPEN for more than 6 different categories offering the following opportunities:
Get more Trophies and Awards from one of the most prestigious dance brands in the world (up to 5 places in each category)
Become Champion of your region
Qualify for UK Hip Hop Dance Championship 2018 with a chance to skip the prelims!
Earn points for National Best Dance School Award (see the details here)
Gain more experience while getting ready to take on the world;
Have a lot of fun at after parties, workshops, crazy dance battles and more
For more detail on categories click here
Better Value Overall with All Inclusive Entry Fees
Now everything is included. It's just one flat fee for participants (spectators, even cheaper). Easy, smooth and fulfilling! Enter as many categories and divisions as you want… no additional charge!!! (of course, if you just want to enter a single category that is possible)
---
Categories
Please note: We reserve the right to combine or split divisions if needed
Choreographed Group Dances
unFORMAT – any style of dance: hip hop theatre, ballet, jazz, contemporary, ethnic, etc.
Beginners Teams: from 5 – 14 participants
Intermediate Teams: 5 – 14 participants
Crews: 5-9 participants in the u13 (Junior), u18 Varsity) and 18+ (adult) categories
MegaCrews: from 15 – 40 participants
Premium Edition (30+ years old)
Battles
2v2 All Styles
3v3 TRASH!
1v1 Popping
1v1 Locking
1v1 Hip Hop
5×5 Crew Battles
*solos and duos have been cancelled for this year
Back to top New | Value | Categories | Schedule | Prizes | New Simple Rules |
---
---
Prizes:
Awards and trophies up to the first 5 places in each Crew / Team / MegaCrew category.
Advanced Battlers/Teams will get £150 for 1st place and £50 for 2nd place per person. IMPORTANT: Cash prize is available only for battle categories with 16 or more dancers/teams battling
All other battles/jam categories will be awarded our exclusive HHI Medals or plaques plus regional and national bragging rights.
Back to top New | Value | Categories | Schedule | Prizes | New Simple Rules |
---
Nation's Best Dance School Award:
We are very excited to continue the brand new UK Best Dance School Award, earned by the most active, and successful dance studio in Great Britain. Unlike 'voting'  based awards The Nation's Best Dance School is earned by scores for participation, e.g. for the number of people participating, competition results, etc.
We established this Award because very often just crew members and dancers are recognized or appreciated. The important people who helped the dancers to achieve success (dance teachers, choreographers, dance schools, dance companies) stay in the shadow. To prepare not just one, but several crews and/or battlers is a very hard work. We want to recognize those dance studios, dance teachers, dance companies, and choreographers who get great results.
For details on the Nation's Best Dance School Award Click Here
Back to top New | Value | Categories | Schedule | Prizes | New Simple Rules |
We're sorry, but all tickets sales have ended because the event is expired.
UK Hip Hop Dance Championships All Access


February 10, 2018 - February 11, 2018




10:00 am - 10:00 pm

UK Battle Saturday Battle Pass


February 11, 2018




5:00 pm - 9:00 pm

Crew Prelims


February 10, 2018




1:00 pm - 5:00 pm

Level Up Workshop 1


February 11, 2018




10:00 am - 11:00 am

Level Up Workshop 2


February 11, 2018 - February 18, 2018




11:15 pm - 12:15 pm

Level Up Workshop 3


February 11, 2018




12:30 pm - 1:30 pm

Level Up Workshop 4


February 11, 2018




1:45 pm - 2:45 pm

UK Finals


February 11, 2018




4:00 pm - 9:00 pm
Address:
Alexandra Park
,
Portsmouth
,
PO2 9QA
,
United Kingdom
Description: