The world's largest street dance event!
Dance Crews – The Heart of the Competition
At the world's most celebrated dance event over four thousand of the world's best crews dancer will come together for the World Hip Hop Dance Championship, an event true to the real values of hip hop culture, and you can be part. Crews and MegaCrews from over 50 countries will compete to capture the world title and international bragging rights while hip hop icons, artists and celebrities make appearances and perform. If you are looking to attend the World Hip Hop Dance Championships, Crews are the Way to go!
The Crews Category:
Crews consist of
NEW

MiniCrews 3 Dancers
Junior Crews 7-12 years old  5 -9 dancers
Varsity Crews – 13-17 years old  5 -9 dancers
Adults Crews 18+ and  5 -9 dancers

New Configuration

MegaCrews now 10 – 40 dancers of any combination of ages
We also have a Team category too!
In addition to the World Hip Hop Dance Championship, HHI's eight-day event schedule includes the world's top street dancers who will represent their countries in the World Battles; Breaking, Popping, Locking and All Styles. Also part of the week are panel discussions featuring respected living legends and icons of hip hop dance, the Chill Down Lounge for dancing and socializing after the evening competitions have concluded, the presentation of the Living Legend of Hip Hop Award and the Urban Moves Dance Workshops presented by the most celebrated hip hop dancers and choreographers.
Above all, dancers meet others from around the world equally passionate about hip hop culture and dance.
Register your interest now!
The best time to register is now! Be part of the only crew dance competition in the UK with non-biased judging and clearly defined rules.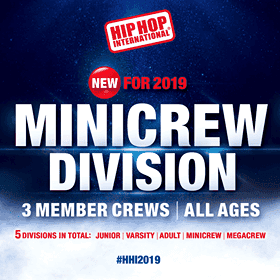 Get the BEST result
There is no one definition to describe hip hop dance. Hip hop dance is a fusion of dance disciplines and cultural interpretations that capture the look, attitude, posture, music and elements of the urban environment. Hip hop dance is continuously evolving and redefining itself with each new generation of dancers.
The highest scoring hip hop dance routine according to Hip Hop International contains a variety of dance styles, showmanship, original signature moves, engaging music and a demonstration of continuous and uninterrupted complete body (head to toe) dance choreography without overuse of gymnastic, cheer, acrobatics or overly dangerous moves.
Before you compete, carefully read the rules or better yet attend our Official Rules and Regulations Workshop where you will learn:
How a judge evaluates a crews performance.
The top places crews loose points and how to avoid them
The stupid little thing you can do that affects 10% of your score
Learn about our Cheater Defeater Technology that assures a fairer result even if a judge is a choreographer for your competitor's crew.
The steps you need to take to go from watching to being an International Elite HHI Judge.
And much more.
The one to two day  Course is a must for teachers, choreographers, dancers and judges who want to get a better result.